← Back to: List of phobias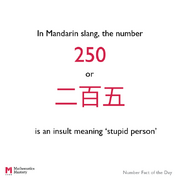 Diakosioipentekontaphobia (from diakosioi, "two hundred", and pentekonta, "fifty") is the fear of the number 250. The fear is commonly suffered by Chinese people because it is their unlucky number as 250 is considered an insult. In the Mandarin language, the number is pronounced er bai wu which means "imbecile." The history of the number being an insult goes back to ancient Chinese when they had copper coins with one thousand being the standard unit and 250 was considered severely inferior.
Due to the unluckiness and worries for the fear of 250, the business jetliner G250 was changed to G280.
Community content is available under
CC-BY-SA
unless otherwise noted.