← Back to: List of phobias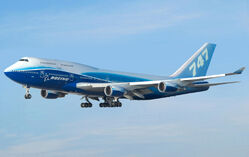 Heftakosioitessarakontaheptaphobia (from Greek heftakosioi, "seven hundred", tessarakonta, "fourty", and hepta, "seven") is the fear of number 747. This fear of number is most exclusive to airline as Boeing 747's had many deadly crashes. Hearing about the news of a Boeing 747 crash is the common trigger of fear, while others have been on Boeing 747 and felt scared while on it.
There were 15 deadly crashes of Boeing 747 out of nearly 800 airplanes currently operating. The reason for this may have been due to superstition that 747 is actually an unlucky number.
Community content is available under
CC-BY-SA
unless otherwise noted.