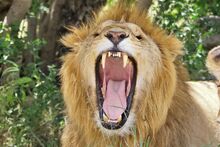 Leonphobia is the fear of lions. They have strong, compact bodies and powerful forelegs, teeth and jaws for pulling down and killing prey. Their coats are yellow-gold, and adult males have shaggy manes that range in color from blond to reddish-brown to black. The length and color of a lion's mane is likely determined by age, genetics and hormones.
It is vital to stand your ground, perhaps retreating very slowly, but to continue facing the lion while clapping your hands, shouting and waving your arms around to make yourself look bigger. Most charges are mock charges, so you will usually be fine. And remember: hold your ground! Never run or turn your back.
Community content is available under
CC-BY-SA
unless otherwise noted.