← Back to: List of phobias

Neganumerophobia (from the Latin word negans, meaning "negative", numerus, "number", and Greek phobos, "fear") is the fear of negative numbers, a branch of numerophobia.
Sufferers of this phobia usually became afraid of it by first learning about negative numbers in school. People suffering this number phobia may -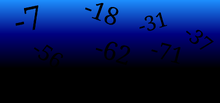 - believe that there's something spiritually evil about negative numbers, like if the one is working on the negative numbers, Satan may penalize them and possibly lure them into Hell. It's the reason why neganumerophobes commonly fear the Satans (satanophobia) and Hell (stygiophobia).
Community content is available under
CC-BY-SA
unless otherwise noted.