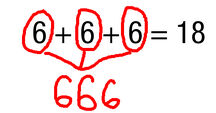 "Octodecaphobia" (from octo, Greek for eight, plus deka, Greek for ten) is the fear of the number 18. This might be because of some people being scared of turning 18 years old. Others say the fear is the offspring of hexakosioihexekontahexaphobia, fear of 666, as the sum of digits in 666 is 18. Some sufferers would avoid doing things that use this number, such as 18 holes in golfing.
Community content is available under
CC-BY-SA
unless otherwise noted.