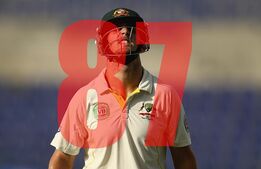 Ogdokontaheptaphobia (from ogdokonta, Greek for "eighty", and hepta, Greek for "seven") is the fear of number 87. 87 is superstitiously considered an unlucky number in sports, specifically in Australian cricket where the final score of 87 is 13 shy of 100, a century. This unluckiness of the number can be applied to other sports like in basketball, most especially when the team scored 87 points and lost to a team who scored over 100.
87 is known as The Devil's Number, which sounds that unluckiness of the number goes outside of sports.
Community content is available under
CC-BY-SA
unless otherwise noted.