← Back to: List of phobias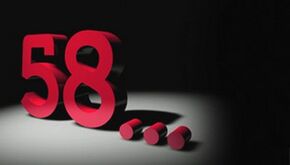 Pentekontoctophobia (from the Greek word pentekonta, meaning "fifty", octo, "eight", and phobos, "fear") is fear of the number 58. This phobia is mainly suffered in Central and South America as according to their cultures, 58 is associated with misfortunes, bad luck and curses. Aztecs believe that stumbling upon the number 58 numerous times would cause tragedies or misfortune to occur to them. In the Philippines, some people associate the number 58 with the Maguindanao Massacre. Severe sufferers would avoid even seeing the number 58, let alone getting in room 58 or get on to the 58th floor in high-rise building, doing it would believe to get cursed.
Community content is available under
CC-BY-SA
unless otherwise noted.