Tabulatophobia is a fear of floors
Terramophobia is the fear of the ground
It is not often you find someone with the fear of floors (i'm one of them)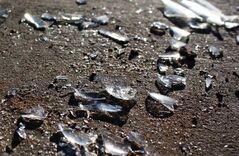 Disclaimer:I am writing this with my experience with this fear
You might be asking why do some people have the fear of floors? It could be because you have bad experiences with the thing you're standing on. It could of been because you or someone got injured or passed when they stepped on a broken part of a floor or something. Or it could have been you stepped on glass, thumbtacks or anything sharp that you did not see on the ground. This might cause people to want to avoid stepping on the ground, in fear of stepping anything sharp on the floors. Stay safe and wash your hands 😷
In my view I stepped on glass many times and I now always see glass, knifes or any sharp objects on the floor knowing damn well it's not there.
do you relate to any of the things i stated above? do tell in the comments =3
Community content is available under
CC-BY-SA
unless otherwise noted.