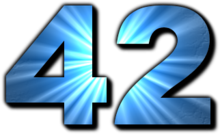 Tessarakontadyophobia (from Greek tessarakonta, "forty", and dyo, "two") is the fear of number 42. Like the number 4, 42 is sometimes feared by the Asians since 42 in Japanese, shi ni (four two) is homophonic for "unto death" in Japanese. The number is denoted in the popular culture, especially in The Hitchhiker's Guide to the Galaxy, where the planet-sized supercomputer, Deep Thought, took 7.5 million years to determine that the Answer to the Ultimate Question of Life, The Universe, and Everything is 42. Also in the episode of Lost, "The Numbers", 42 is the highest number in the six-number sequence, after 4, 8, 15, 16, and 23, which is used as coefficients to predict human demise. In real life, 42 was retired by all of Major League Baseball in honor of Jackie Robinson, which may give them fear that the number may be banned from everything.
People who fear number 42 may believe that the number is associated with everything and represents the end of the mankind and the universe. Some may even believe that humanity will end when the sufferer turns 42.
Community content is available under
CC-BY-SA
unless otherwise noted.